How much time do you spend watching your finances every week? 1 hour? 2 hours?
Do you see budgeting as something boring, overwhelming or time-consuming?
Do you happen to feel guilty sometimes for spending on things you don't need?
If you answered YES to these questions keep reading…
Let me get this straight, personal finance doesn't have to be painful and it doesn't have to be a waste your time.
If every week you spend 1 hour or 2 managing your finance and try to convince yourself that this is the only way to keep your finances on the right track, something is wrong (unless your hobby is going through your bills on a regular basis, which makes sense in that case ).
I don't know you but I prefer reading a great book or watching a movie with my friends rather than spending my time budgeting.
The good news is that it's definitely possible!
There is actually a simple system that you can set-up in minutes and that will allow you to automate your personal finances so that not only can you spend more time doing things you love but also buy the items you've always wanted, guilt-free.
Sounds great?
Let me show you what this system looks like and how to set it up.
Here's what automating your personal finance looks like:
Everything is automatic, which means that as soon as you get paid the system takes care of everything. The money that you earn is automatically allocated among the different accounts.
This system actually works a little bit like this: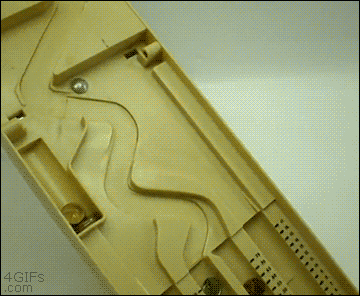 Let's see in details how to set it up.
How to automate your personal finances step-by-step
Step 1: Set-up a direct deposit for your paychecks (no paper checks otherwise the system won't be optimal). 6% automatically gets contributed to your 401(k), the rest gets deposited directly into your checking account.
Step 2: From your checking account, set-up two automatic transfers:
5% to your saving account.  You can then use that money to invest (CD's, Stock, P2P lending, online business…) or to buy things that require a large capital (Wedding, down payment on a house, vacation…).
5% to your Roth IRA
Step 3: Set-up electronic bill pay for all your bills that you pay monthly and that can't be paid by credit card (Mortgage, rent, gas, electric bills…)
Step 4: Pay all the others bills (Gym, Netflix, Starbucks subscription…) and your discretionary spending on a rewards credit card. That way you can maximize the rewards/cash back you can earn.
The beauty of this system is that you can spend all the money that's left on your credit card guilt-free! You don't have to think about saving, paying your rent, electricity… the system does it for you.
You can set-up this system in minutes (online or on the phone with your banker) and enjoy the benefits year after year.
Of course you will have to check your bills and statement every once in a while just to make sure there is no errors but it will only take you 1 hour maximum per month.
What about you? Do you have a system already in place? If not will you use the system I just explained? Let me know in the comments below, I read and answer each one of them.
Simon Cave